In Her Landscape
Qian Qian and Marlene Steyn
15th September – 14th October 2023
PV 14th September 18:00 – 21:00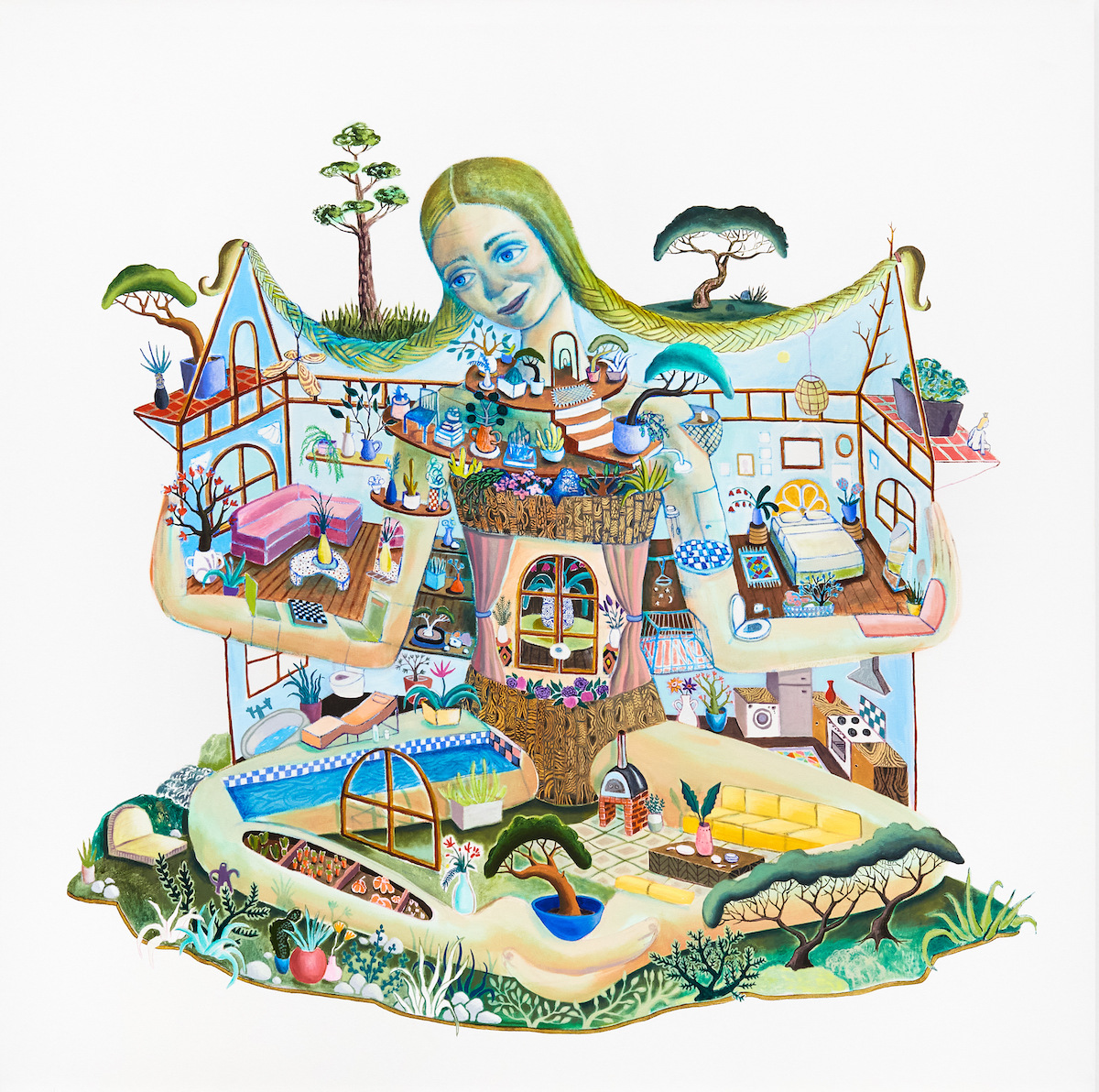 Marlene Steyn, How to House A Heart, 2023, 150 x 150cm, oil and Acrylic on Canvas
Lychee One is delighted to present 'In Her Landscape,' a duo solo exhibition that brings together the London based artist Qian Qian and Marlene Steyn from Cape Town. As the two artists emerge from distinctive cultural geographies, their painterly imagery shares methods of contemplative musings in which nuanced perspectives intertwine and meld into a vantage points of difference. This joint exhibition feels akin to a spatial rendition of the exquisite corpse, a surrealist painting game, where two distinctive minds converge upon a shared destiny, creating an integral formality with an impressive sense of equivocal artistic quality.
Derived from her earlier ventures into sci-fi narratives, Qian's latest watercolour series "The Iron and Love in our Bodies" (2023– ) unfurls a microscopic universe with the interplay of light waves form integral components of consciousness. The canvas becomes a playground for whirls of colours that bear testament to meditative vision such as Shiva's rhythmic dance, or the slow rotation of garden plants as they trace the path of light. These images endeavour to bring to life the interplay between the 'Quantum Mind' hypothesis and the meditative inner visions documented in Buddhist Sutras. While the theory suggests the intriguing role of quantum-mechanical phenomena like entanglement and superposition in the synaptic communication between neurons, she uncovers a reciprocal harmony within recollections of ancient wisdom. These sutras depict radiant hues seen by meditators' inner eyes, marking the pinnacle of consciousness's transformative passage. Collectively, the paintings contemplate colours and compositions as frequencies that resonate with the pulses reaching our visual senses.
As Qian enthralls with her inner visions, Steyn seemed to take up the mantle from the very horizon where Qian's exploration culminates. In this latest series, Steyn unravels a Matryoshka of ecosystems within the confines of an evenly diminutive painterly capsule. Curiously, this series of Steyn's works manages to evoke both 'Neijing Tu', The Daoist Inner Landscape, or the visions of Giuseppe Arcimboldo as distinctive cosmo-aesthetic lineages. This accidental convergence has given rise to the exhibition's title. The pronunciation of 'in her landscape' bears a phonetic resemblance to 'inner landscape,' aiming to emphasize the inner bodily landscape as a counterpoint to the canonical narratives of Western modernity.
Crafting a protagonist that seemingly mirrors her own visage, Steyn's serial paintings unravel an inner expanse where the gaze converges upon the skin's outer layer, then ventures into the depths of intestines and the subconscious. Her enveloping arms and other acrobatic gestures would transform into a haven, nurturing fauna and creating a sauna-like oasis for growth (The Bedroomies, 2023), much like Qian's plants that sway and twirl in their mandala dance (The Sun Standing Still, 2023). Steyn explores her figures in myriad ways, connecting them intricately with their surroundings and the negative spaces, often deliberately blurring the line between positive and negative spaces. Themes of the inner child, archetypal influences, and motherhood themes reverberate throughout her artistic exploration. The concept of entanglement emerges as a potent undercurrent interwoven with meditation – a philosophy where the relinquishing of ego embodies the notion of 'being not apart, but a part of the whole.' This intricate process takes on the role of meditation, with painting serving as the meditative conduit for discovery.
Text by Zian Chen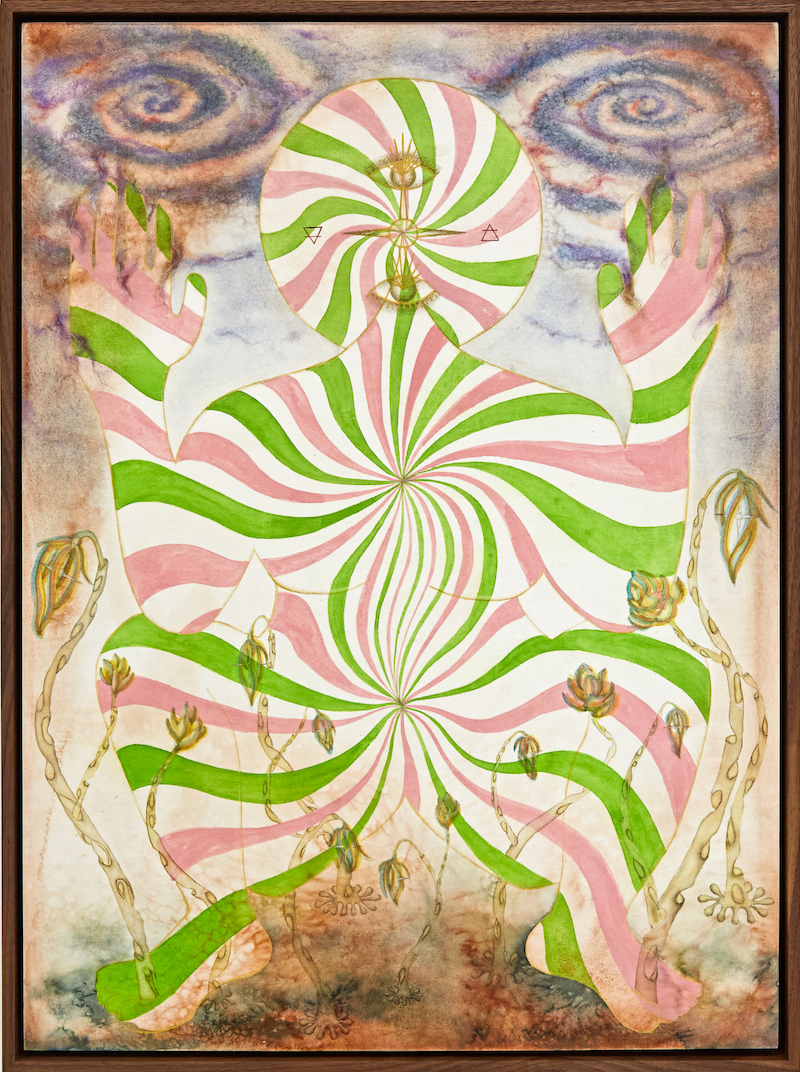 Qian Qian 钱倩, The Sun Standing Still /至日, 2023,
56 x 76 cm (59 x 79 cm with frame),
Watercolor, Pencil and Pastel on Archival Board,
在她的风景中:钱倩 , 马琳·丝丹
荔枝一号荣幸呈现伦敦艺术家钱倩和居住在开普敦的艺术家马琳·丝丹(Marlene Steyn)的双个展:"在她的 风景中"。尽管两位艺术家来自截然不同的文化语境,不过,她们的绘画意象传达出共同的思考方式,其中,她们 各自的细腻视角无缝地交织在一起,仿佛叠成同一帧身体图像的上下文。这样的双个展,仿佛让人感觉像是超现实 绘画游戏"精致尸骸"的空间演绎版本——两个独特的心灵在同一个命运点上交汇,在形成一个完整图像的同时, 展现了模棱两可的美学素质。
钱倩在最新水彩系列"我们身体里的铁和爱"绘制了一个微观宇宙,也是从她近年的科幻叙事进一步发展而来。其 中,光波的相互作用成了意识的重要组成部分。在此,纸面成为一个绚烂的游乐场:记录冥想幻境的色旋,湿婆的 宇宙舞,以及园中植物沿着光的路径缓慢旋转。这些图像源于艺术家对量子意识的假说以及佛教经文中记录的冥想 内视两者的相互参照。量子意识这则科学假说认为:在神经元进行沟通时,量子的纠缠和叠加扮演着重要的角色; 另外,她也在古老的智慧中发现了互相印证的道理:一些经典往往记录冥想者内心所见的辉煌色彩,从而作为意识 转化之旅的路标。两相互补,这些绘画将颜色与构图视为脉动频率,驱使我们的视觉感知与之共鸣。
随着钱倩以她内观的视野迷住了观众,马琳·丝丹仿佛从钱倩所抵达的视界,接过了这个视野探索的工作。在这 个最新的系列中,马琳·丝丹把握了同样微小,胶囊般的绘画空间内,呈现出一个又一个生态系,套娃一般地向内镶 嵌。耐人寻味的是,Steyn 这系列的作品同时引发了两条截然不同的宇宙美学联想——道家《内经图》以及阿尔钦博 托的水果肖像画。这种偶然的交汇,也催生了展览的标题。在英文的原标题中,"在她的风景中"念出来的发音就像是 "内在景观",同时也意在思考被西方艺术史正典所忽视的这种内在的身体景观脉络。
在马琳·丝丹这一系列作品中,她似是以自己作为画中主角,不同画面中,她穿越视线可抵达的事物表层,进一 步深入到身体肠道和脑海的潜意识内部,并且揭示了此处的广阔空间。她的身体摆出各种杂技般的姿势,如双臂环 抱,臂弯内就变成一个庇护所,滋养动植物,创造出一个绿洲,促进生长(《卧室》,2023)——就像钱倩笔下植 物的曼陀罗缓舞一般(《至日》,2023)。马琳·丝丹擅长通过多种方式探索她的人物形象,将它们与周围环境和负 空间紧密联系,常常故意模糊正负空间之间的界线。贯穿她绘画探索的几个主题是内心中的儿童形象、一些视觉的 原型,以及对母性的认识。其中,纠缠的概念则作为一种强大的潜在力量与她的冥想交织在一起——这是一种画面 上的哲学,有助于艺术家将自我意识放下,借此,艺术家在画面上总是将局部视为整体的一部分,并找到其中的幽 微联系。这个复杂的过程正是冥想本身,也让绘画成为冥思探索的媒介。
文 陈玺安
ARTIST BIOGRAPHY
Qian Qian (b. 1990, China) lives and works in London after completing her MFA in Fine Art from Goldsmiths, University of London, UK. As a visual artist, and mother, Qian explore human spirituality and transcendence in the man-made technosphere and the wider natural world. Through paintings and interactive installations, She develop a narrative and aesthetic framework combining the two seemingly distinct spheres of mythology and science.
Recent exhibitions include In Her Landscape, Lychee One, London (2023); Metempsychosis, Richard Saltoun Gallery OVR (2023); and X Museum Triennial, X Museum, Beijing, Beijing (2023). Mother Art Prize, Zabludowicz Collection, London, UK (2023); Syncopes, Mimosa House, London, UK (2020); Embryos, West Norwood Project Space, London, UK (2019); FBA Futures, Mall Galleries, London, UK (2019); Goldsmiths MFA Graduation Show, Goldsmiths University of London, London, UK (2018); Inspiration Momento, Leyden Gallery, London, UK(2018);Lodger, Westminster Library, London, UK(2018); …And To Dust All Return, Unna Way, Huddersfield, UK(2018);
Marlene Steyn was born in 1989 in Cape Town, South Africa, where she currently lives and works. Steyn obtained her Master of Fine Art degree in 2014 from the Royal College of Art in London, UK. Her work is included in Phaidon's prestigious Vitamin C: Clay and Ceramic in Contemporary Art. Artist-in-residence programmes include a collaborative residency with Kay 16 and Artport Residency in Tel Aviv, Israel.
Recent solo exhibitions: in 2022, Steyn presented two solo exhibitions YOU-ME-VERSE, at Lychee One in London, UK; in 2020, Steyn show her works in the artist room at SMAC gallery in Cape Town; in 2019, she presented two solo exhibitions: deep she dive her at SMAC Gallery in Cape Town, South Africa, and Unbuttoning my belly, at Lychee One in London, UK. Earlier solo exhibitions include: Shouty Insides at Galerie DYS in Brussels, Belgium in 2018; Knot I : I Knot at SMAC Gallery in Johannesburg, South Africa in 2017; Your Skin Is Not The Best Hiding Place at SMAC Gallery in Cape Town and You Can't Cry When Your Head is Underwater at Lychee One, London, both in 2016; Mad Love at Lychee One in London as well as The End is Located Underneath Her Third Armpit (if the muscle is flexed) at Commune 1 in Cape Town, both in 2015; How Cannibals Cuddle at Cabin Gallery in London, in 2014.
Recent group exhibitions include: X PINK 101 at the X Museum, Beijing, China; NON-PLACES, Powerlong Art Centre in Shanghai, China; Kindred, Boschendal Norval Art Gallery, Franschhoek, South Africa; Act 1: Body and Thrall, Rugby Art Gallery&Museum, Rugby UK 2022; Unfair Weather, Lychee One, London 2021; A Show of Solidarity, in support of the South African Solidarity Fund during an enforced Covid-19 lockdown, at SMAC Gallery in Cape Town 2020; Staycation at Lychee One in London, UK 2020; 'L'Heure Bleue' at PLUS-ONE Gallery in Antwerp, Belgium and SHAPING THINGS: An exploration of clay and ceramics in contemporary South African art practice at SMAC Gallery in Stellenbosch, all in 2020. Further selected group exhibitions include African Textures at OSART Gallery in Milan, Italy; arteBOTANICA in collaboration with Viviers Studio at the Nirox Sculpture Park in Krugersdorp, South Africa, both in 2019; Paper Cuts, at the Saatchi Gallery in London UK; Bone Memory at Lychee One in London, UK and Kneadingthetorsomakesabuzz, curated by Karni Barzilay at KAV 16 Gallery in Tel Aviv, Israel in 2018; Another Antipodes Inc at PS Art Space in Fremantle, Australia and All Things Being Equal at the Zeitz Museum of Contemporary Art Africa (MOCAA) in Cape Town, South Africa in 2017.