Walls Who Whisper
Pippa El-Kadhi Brown
24th Febraury – 25th March 2023
PV 23rd Febraury 18:00 – 21:00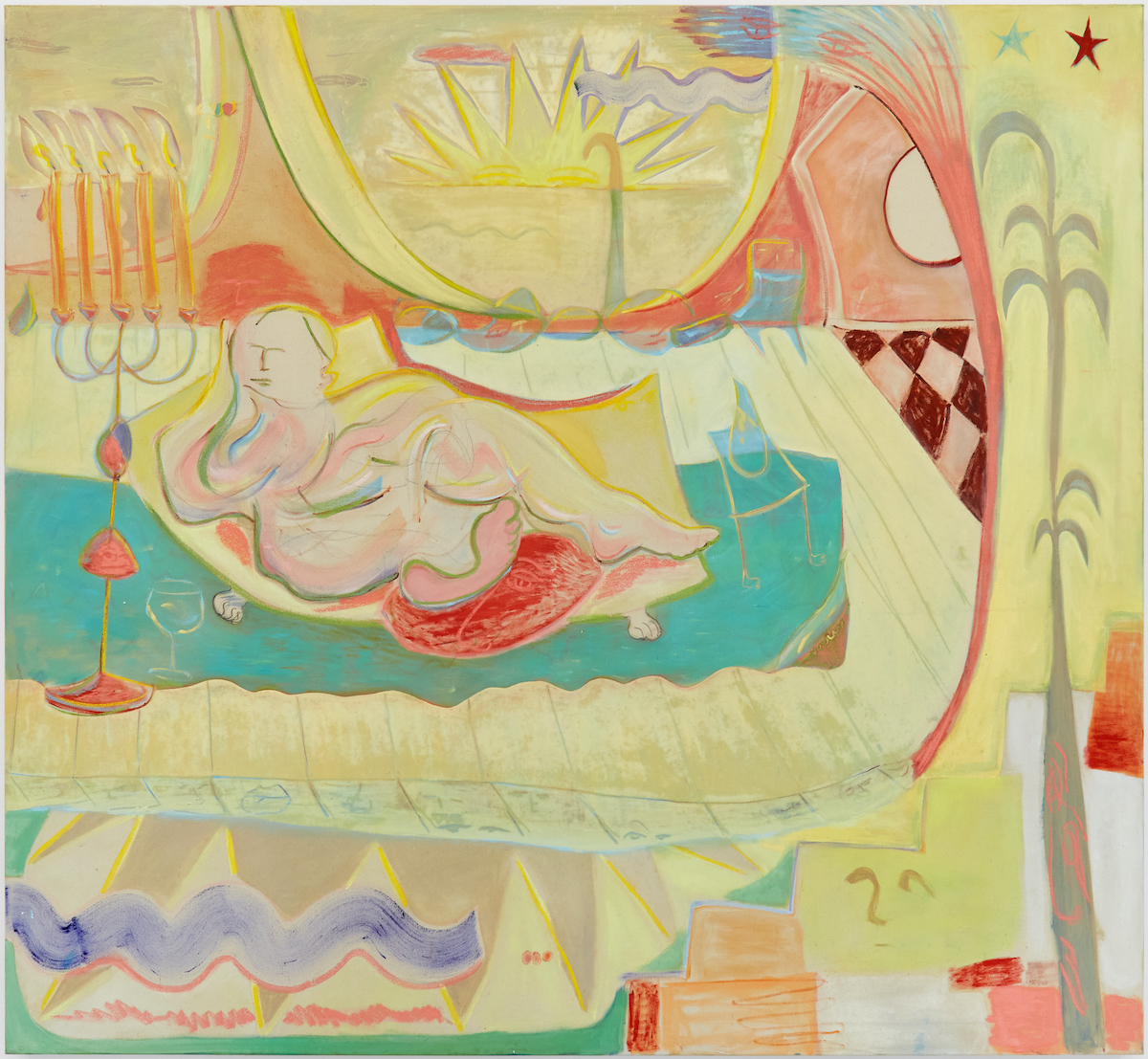 Pippa El-Kadhi Brown, Walls Who Whisper to Rooms Who Listen, 2022, 175 x 190 cm, Oil, acrylic and chalk on canvas
Pippa El-Kadhi Brown: Other Voices, Other Rooms
"An empty home wears a veil of silence, but perhaps it isn't so silent at all. Perhaps it purrs, laughs, and even shrieks. Perhaps it whispers softly, loudly, and continuously–alive, beating and breathing. The home is a system of organs. The home is an entire organism.
Inhabited with curious household spirits, anthropomorphic figures that brush through space and dissolve into furniture. A little universe with its own distinctive language; a highly intricate dialect almost impossible to decipher, unless possessed with a native, whispering, tongue."
— Pippa El-Kadhi Brown
The paintings Pippa El-Kadhi Brown brings together in the exhibition Walls Who Whisper propose we consider all that animates and fills a home when no one else is present: the voices, memories, emotions and desires absorbed perhaps by furnishings, constellations of items collected and arranged by inhabitants to reflect and represent themselves. It is a tale of animated domestic echoes on a stage that is the home. In El-Kadhi Brown's handling, the house and home is reimagined as a system of organs–an organism even. The walls become a storyteller that speak a domestic dialect as they weave a complex dialogue of memory and magic that imbricates and animates the spaces in which we live. We are all perhaps used to the notion that the walls 'may have ears'. Here, in these paintings produced by the artist during the past year, the walls not only have 'ears' but eyes and tongues, with windows as lungs.
In the large signature work that lends its title to the exhibition, Walls Who Whisper to Rooms Who Listen, a spectral anthropomorphic spirit of home dissolves into furniture that appears on the verge of coming to life. These domestic backdrops are reminiscent of a film or stage set replete with the quotidian props of hearth and home. Snakes and Ladders gathers a good number of recurring motifs that inhabit El-Kadhi Brown's painting–from a picture set within a picture leading onto other rooms and voices, to a checkerboard pattern that draws equally from kitchen linoleum and the checkerboard on which the game of life is played. In her hands, checkerboard is as well a device for producing space while also aligned to the transparent abyss beyond the margins of a Photoshop image. The rooms that make up Phantom Bather are caste in inky Prussian hues shared by the ocean deep or midnight sky. Their murky breath surrounds a cascading shower that lends haunting form to a hooded presence lingering in the water that awaits a guest.
Pippa El-Kadhi Brown's magical paintings collapse the distance between dream and reality with an impressively light handling of paint alongside a profound degree of imagination. She draws on an intricate economy of detail in these beautiful works to conjure spaces with lives of their own.
Text by John Slyce
Pippa El-Kadhi Brown (b.1996) is a London based artist who explores the enigmatic dialogue between domestic space, consciousness, and the human psyche. She graduated from MA Painting at Royal College of Art (2022), after studying BA Painting at The University of Brighton, School of Art (2018).
Her work has recently been exhibited at Lychee One Gallery for her Solo Exhibition 'Walls Who Whisper' (London, 2022). Other solo exhibitions include 'Where the Dust Settles' (CBU Gallery, Taipei, 2022), 'Around You, Within You, or Nowhere at All' (Ashurst, London, 2020), and 'House Plants' (Creekside Projects, London 2019).
She received The Ali H. Alazzi Scholarship Award (2020), The Ashurst Emerging Artist Prize (2020), The Art Pegazs Taste of Life Award (2019), The Creekside Graduate Studio Award (2019) and has been shortlisted for the Chadwell Award (2022) and the Global Design Graduate Award (2022).
She has taken part in residencies internationally; Organhaus Residency (2019), Chongqing, China and the Creekside Graduate Studio Residency (2019), London, UK, and has an upcoming residency with Artpegazs' Artfarm Liepaja in Liepaja, Latvia.
She has been featured by Made in Bed, Where's The Frame and She Curates.
Recent group shows include: Culture EXPO, Culture Centre, Ningbo, China 2022; Beijing Contemporary Art EXPO, Beijing, China 2022; The Infinite Game: Hide and Seek, WAS Art Centre, Ningbo, China 2022; A Feast for the Eyes, StART Art Fair, Galleria Foret, Seoul, Korea 2022; Fancy a Bite?, Studio West, London, UK 2022; RCA 2022 Degree Show, RCA Battersea, London, UK 2022; Time Lines, Peckham Safehouse 1, London, UK 2022; The Booth Without an Art Fair, SET Woolwich, London, UK 2022; One Art Taipei, The Sherwood Taipei, Taipei 2022; Garden of the New Deity, Lí Gallery, Shanghai, China 2022; Art Taipei, Taipei World Trade Centre, Taipei 2021; Under the Same Sky, Peckham Safehouse 1, London, UK 2021; Star Start 2, Rear Window Gallery, Hangzhou, China 2021; Further Than The Eye Can See, Barkney Wick, London, UK 2021; Interior, Exterior, Sala Salon, London, UK 2021; The Running Water Takes Me to a Farther Lake, Meisyakan, Ningbo, China 2021; How About a Summer Show, Buran Art Gallery, Ningbo, China 2021; Brighten up the Night, Yuan Art Museum, Hangzhou, China 2021; The Birthday Party, The Artists Contemporary, Online 2021; Ashurst Emerging Artist Prize Shortlist, Emerging Artist Gallery, London, UK 2020; Exhibition 104, Amina Malik Gallery, London, UK 2020; A World Without End, No Barking Art, Online 2020; Your Landscape; Life Inside Quarantine, Q Collective Gallery, Online 2020; DragonT, Ugly Duck, London, UK; Meet and See, Wushan Art Centre, Chongqing, China 2019; The Taste of Life, Art Pegazs, Riga, Latvia 2019