Unfair Weather
Chechu Álava
Bea Bonafini
Mary Herbert
Gabrielle Kruger
Alicia Reyes McNamara
James Owens
Marlene Steyn
Lian Zhang
11th November – 17th December 2021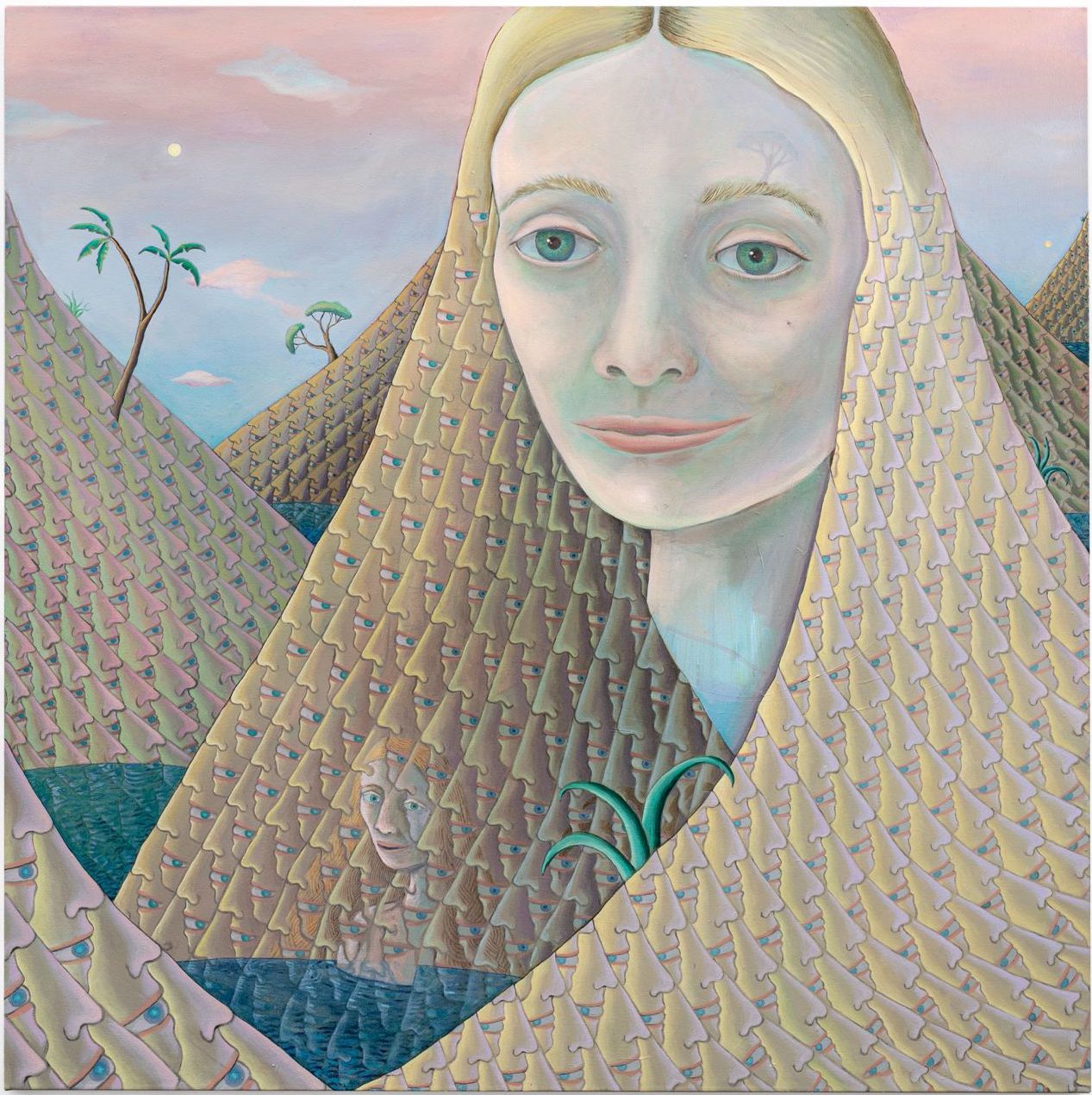 Lychee One proudly presents Unfair Weather, a group exhibition curated by Lian Zhang with Anna Souter. Unfair Weather takes friendship as a structuring principle, examining the importance of personal connections in the face of the ongoing coronavirus pandemic. Threads of common interest emerge through ties of affection and like-mindedness; there is a radical potential in taking friendship seriously, as a way of looking beyond traditional societal structures and responsibilities and seeking for social change based on open-heartedness, shared affection, and intimacy.
Over the last 18 months, the value of friendship has been undermined by governments' focus on households, promoting traditional family units and disproportionately impacting interpersonal relationships that are not recognised in law. Unfair Weather upends the concept of a "fair weather friend", instead emphasising the capacity of communities to flourish in challenging times, whether withstanding the storms of the pandemic or responding to social issues. The title also hints at the pressing environmental crisis of which the pandemic is arguably a symptom. We are already seeing how climate breakdown leads to more extreme weather events, unjustly impacting marginalised peoples and those least equipped to deal with them.
In different ways, the works in this exhibition are all rooted in attempts to come to terms with the exceptional circumstances in which we are all living. At a time when gestures of affection through touch and physical presence have been disallowed, these artists have used alternative visual love languages to share embodied senses and to convey personal hopes and concerns. With an emphasis on figurative painting, the works in this exhibition evoke both the limitations and the freedoms engendered by the pandemic, from the stay-at-home orders to the opportunities to forge connections with the more-than-human world.
-
Gabrielle Kruger's recent works in acrylic challenge the illusion of the painted image, instead exploring the properties of paint as a physical material to create assemblage-like scenes of coral and seaweed. Kruger sets out an uneasy but intimate relationship between living seaweed, synthetic paint, and the plastic waste that threatens our ecosystems. Other works by Kruger utilise the same materials to evoke the confinement of the pandemic, through grid-like paintings with titles such as "Masking Off" and "Staying Inside".
By contrast, Mary Herbert uses soft pastels on paper to create glowing twilit images in which people exist in harmony with the more-than-human world. Continuing a practice made a necessity by lockdown, Herbert draws on her inner world to present intimate snapshots of daydreams, visions, and memories. In the disruption to our ordinary shared reality caused by the pandemic, Herbert attempts to find spaces in which to speculate about alternative ways of thinking and seeing.
Towards the beginning of the pandemic, many people reported having exceptional vivid, strange dreams; probably a response to the exceptional and stressful circumstances unfolding globally. This unexpected, shared state is echoed in Lian Zhang's Wavelength, a title suggesting intellectual and emotional resonance as well as alluding to the fluidity of bodies of water. Here, temporalities are in flux and figures are fragmented. Ruins of an ancient past press hard against uncertain futures.
Dreamlike states are similarly evoked in Marlene Steyn's body of work, which explores the power of the imagination. A woman with a mysterious smile rises from a landscape supported by pyramidal tresses composed of noses with endless rows of eyes that double as mouths. A hypersensory overload dissolving into another calm female face.
Female protagonists also play an important role in new works by Chechu Álava. Inspired by compositions found in renaissance paintings or the Pre-Raphaelite photographs of Julia Margaret Cameron, Alava represents women grouped in dance or conversation. The soft style of the paintings creates an otherworldly and mysterious feel, pointing to unresolved narratives and the intangibility of close friendships.
Alicia Reyes McNamara's work is concerned with myths and rituals of healing, loss, and mourning. Her imaginative landscapes are populated by shapeshifting female figures, suggesting a fluidity of references, cultures, and identities. Her work conjures a world of sensuality and song through painted visual rhythms, while hinting at shared embodied sensations in times of emotional intensity.
Bea Bonafini's sculptural works also indicate a preoccupation with ritual and mythology. Recalling masks or ceremonial props, they prompt questions regarding how we assign spiritual values to objects. The works are tactile and sensual, indicating a fluidity between human and animal, fantasy and reality, revelling in indeterminacy. Bonafini's practice shows how we project our emotions onto shared objects of attention during challenging times, creating empathetic networks.
Themes of resilience are suggested in James Owens' work, which draws on plants' capacity to grow even in the least hospitable environments. Owens' paintings use liminal spaces to capture how the more-than-human world exists in a state of constant flux, teetering richly between life and death. Tendrils and flowers disrupt the picture plane, resurging with a simultaneously hopeful and sinister beauty.
Text by Anna Souter
Chechu Álava was born in 1973 in Asturias, Spain, and currently lives and works in Paris, France. Álava obtained her Bachelor of Fine Arts at the University of Salamanca in 1996, and was awarded the Erasmus Scholarship to study at the Rietveld Academie in Amsterdam in 1995. In 2020 Alava presented her first major museum exhibition, « Rebeldes », at the Thyssen Museum in Madrid, Spain, which was accompanied by an artist's monograph. She began showing her work in 1994 at many national and international art fairs. She is represented in institutions such as the Museo de Bellas Artes de Asturias, DKV Art Collection Spain, the Ministry of Culture (Spain) and in private collections in Mexico, France, Colombia, Germany, Portugal, the United States, South Africa and Spain.In 2014 her work was selected by an international jury to be included in 100 Painters of Tomorrow, a book published by Thames and Hudson.
Bea Bonafini is an Italian artist living and working between Rome, London & Paris. Bea is the recipient of the Abbey Scholarship, British School at Rome (BSR), Italy, 2019-2021, which she has recently concluded. In 2016 she graduated from the Royal College Of Art, London, with an MA in Painting (Distinction), and in 2014 she graduation from UCL, Slade School of Fine Art, London, with a BA in Fine Art, (1st class honours). Bea has been the recipient of many awards and residencies including La Berlugane-Maleki Residency and Commission, Beaulieu-sur-Mer, France, 2019; FIBRA Artist Residency, Colombia, curated and co-produced with Mia Pfeifer, 2018; the Villa Lena Residency, Tuscany, Italy, 2016, and many others. Recent solo exhibitions include: Twin Waves. Operativa, Rome, 2020; Chimère, Chloe Salgado, Paris, 2019; Talk to the Hand. Solo show, Bosse & Baum, London, 2019. Ogni Pensiero Vola. Solo show. Renata Fabbri Gallery, Milan, 2018; Shed Shreds, Lychee One, London, 2018; Dovetail's Nest, Zabludowicz Collection, Zabludowicz Invites, London, 2017; and A World Of One's Own, Fieldworks Gallery, London, 2017. Other projects include: If You Can't Stand the Heat, Rowing Projects, London, 2018; Does Your Chewing Gum Lose Its Flavour (On The Bedpost Overnight)?, J Hammond Projects, London, 2017; The House of Penelope, Gallery 46, London, 2017; Summer Blue, Lychee One Gallery, London, 2016; At Home Salon: Double Acts, Marcelle Joseph Projects, London, 2016
Mary Herbert is a London-based artist. She gained her BA in Fine Art at Goldsmiths College in 2010, where she developed a fascination with the materiality of the photographic image and its unreliability as a container of memory. She later completed her Postgraduate studies at the Royal Drawing School in 2018, where she re-connected with the physical and unconscious aspects of image making through drawing. Selected recent exhibitions: Bloodroot, Arusha Gallery, Edinburgh(duo with James Owens); To see through it (solo), Lychee One, 2021; The Lonely Ones, Curated by Katelyn Eichwald, Fortnight Institute, New York (online) 2021; Works on Paper II, Blue Shop Cottage, London 2020; Unmasked, Daniel Raphael Gallery, London (online); Dance First Think Later, General Practice, Lincoln 2020; Somewhere Else for a Little While, Eve Leibe Gallery, London (online) 2020; Bloomberg New Contemporaries, Leeds Art Gallery & South London Gallery, 2019.
Gabrielle Kruger lives and works in Cape Town, South Africa. After graduating summa cum laude from Stellenbosch University with a Bachelor of Fine Arts (BA) ) in 2015, she went on to be awarded her Masters in Fine Arts (MA) from Michaelis School of Fine Art, University of Cape Town (UCT) in 2018. In the same year, Kruger was awarded a Certificate of Excellence from the 33rd Chelsea International Fine Art Competition and participated in the collective exhibition at Agora Gallery, New York City, USA. Solo exhibitions include: Wait the Line, SMAC Gallery, Cape Town, South Africa, 2020; For Paint to Dry, SMAC Gallery in Stellenbosch, South Africa; and Overgrowth at Marta Moriarty Art Window, Madrid, Spain, 2019. Since her recent residency at Nirox Sculpture Park at the Cradle of Humankind in Johannesburg, South Africa, Kruger has presented a number of painting performances, including: Gucci Garden of Eden, curated by Elana Brundyn and Louw Kotze at the Norval Foundation in Cape Town, South Africa, 2019; and arte BOTANICA, curated by Manthe Ribane at Nirox Sculpture Park in Johannesburg, South Africa, 2019.
Alicia Reyes McNamara is an artist based in London. She completed her MFA at University of Oxford Ruskin School of Art in 2016. Her work has been included in Bloomberg New Contemporaries (2016). She was awarded the South London Gallery Graduate Residency 2016-17 and her exhibition 'Nowhere Else' was exhibited in the first floor galleries in 2017. She was commissioned to create a project as part of 2018 Communal Knowledge at The Showroom. She has been awarded an a-n bursary, a Jerwood Bursary, and the Chisenhale Studio Summer Residency. She recently presented a solo exhibition at Niru Ratnam Gallery and Lismore Castle. She is looking forward to being part of The London Open next year at Whitechapel Gallery.
James Owens is a painter based in south-east London. He graduated from Camberwell College of Art in 2018. In 2019 Owens was shortlisted for the Evening Standard Emerging Artist Award. Recent solo exhibitions include: Quiet Fire, Arusha Gallery, London, 2021; and Blood Root (duo show with Mary Herbert), Arusha Gallery, Edinburgh, 2021. Selected group exhibitions include: What I See I Will Never Tell, Wilder Gallery, London, 2021; Spring Fling, All Mouth Gallery, London, 2021; Tender Kith, 155a Gallery, London; When Shit Hits the Fan, Guts Gallery, online exhibition, 2020; Evening Standard Art Prize, National Gallery, London, 2018.
Marlene Steyn was born in Stellenbosch and currently lives and works in Cape Town, South Africa. Steyn completed a BFA at Stellenbosch University and graduated in 2011. Thereafter, she attended the Royal College of Art in London and completed her MA in painting in 2014. Her work is included in Phaidon's prestigious Vitamin C: Clay and Ceramic in Contemporary Art. Artist-in-residence programmes include a collaborative residency with Kay 16 and Artport Residency in Tel Aviv, Israel and an upcoming residency Sundaymorning@ekwc and centre-of-excellence for ceramics in Oisterwijk, Netherlands in 2022. Notable solo exhibitions include: deep she dive her, SMAC Gallery Cape Town, South Africa (2019); Unbuttoning my belly, Lychee One, London, UK (2019); Shouty Insides, Galerie DYS Brussels, Belgium (2018); Knot I : I Knot, SMAC Gallery Johannesburg, South Africa (2017); Your Skin Is Not The Best Hiding Place at SMAC Gallery (Cape Town: 2016); You Can't Cry When Your Head is Underwater at Lychee One (London, United Kingdom: 2016); The End is Located Underneath Her Third Armpit (if the muscle is flexed) at Commune.1 (Cape Town, South Africa: 2015), Mad Love at Lychee One, (London, United Kingdom: 2015) and How Cannibals Cuddle at Art Cabin (London, United Kingdom: 2014). Marlene Steyn's work features in numerous public and private collections including the Zeitz Museum of Contemporary Art Africa (MOCAA) and Norval Foundation in Cape Town, South Africa, The Royal College of Art Collection, YIS foundation, Marcelle Joseph collection in UK, Springmeier Collection in Germany and X Museum Collection in Beijing.
Lian Zhang was born in 1984 in Hangzhou, China, currently lives and works in London. Zhang obtained her Master of Fine Art degrees from Royal College of Art, UK in 2013 and China Acedemy of Arts, Hangzhou, China in 2011. Recent exhibitions include: Fortune Exhibition of Li's Family House, Li Liao + Whitespace Beijing, 2021; Fertile Laziness, Platform Projects, London, 2021; Antisocial Isolation, Delphian gallery+Saatchi gallery, London, 2020; Constellations and Folds (solo), Lychee One, London, 2020; Bone Memory, Lychee One, London, 2019: Rifts in silence (with Wu ding and Zhao Qian), M art center, Shanghai, 2018, Flickering boundaries, MadeIn Gallery, Shanghai, 2018, Mingled Spaces (with Caroline Walker and Gareth Cadwallader), Lychee One, London, 2017; The Open West, The Wilson | Cheltenham Art Gallery & Museum, Cheltenham, 2014; Zhang is the recipient of Curator's Prize of The Open West 2014, Hine Painting Prize 2013 and shortlisted for Valerie Beston Award 2013.