To See Through It
Mary Herbert
24 Feb – 25 March 2021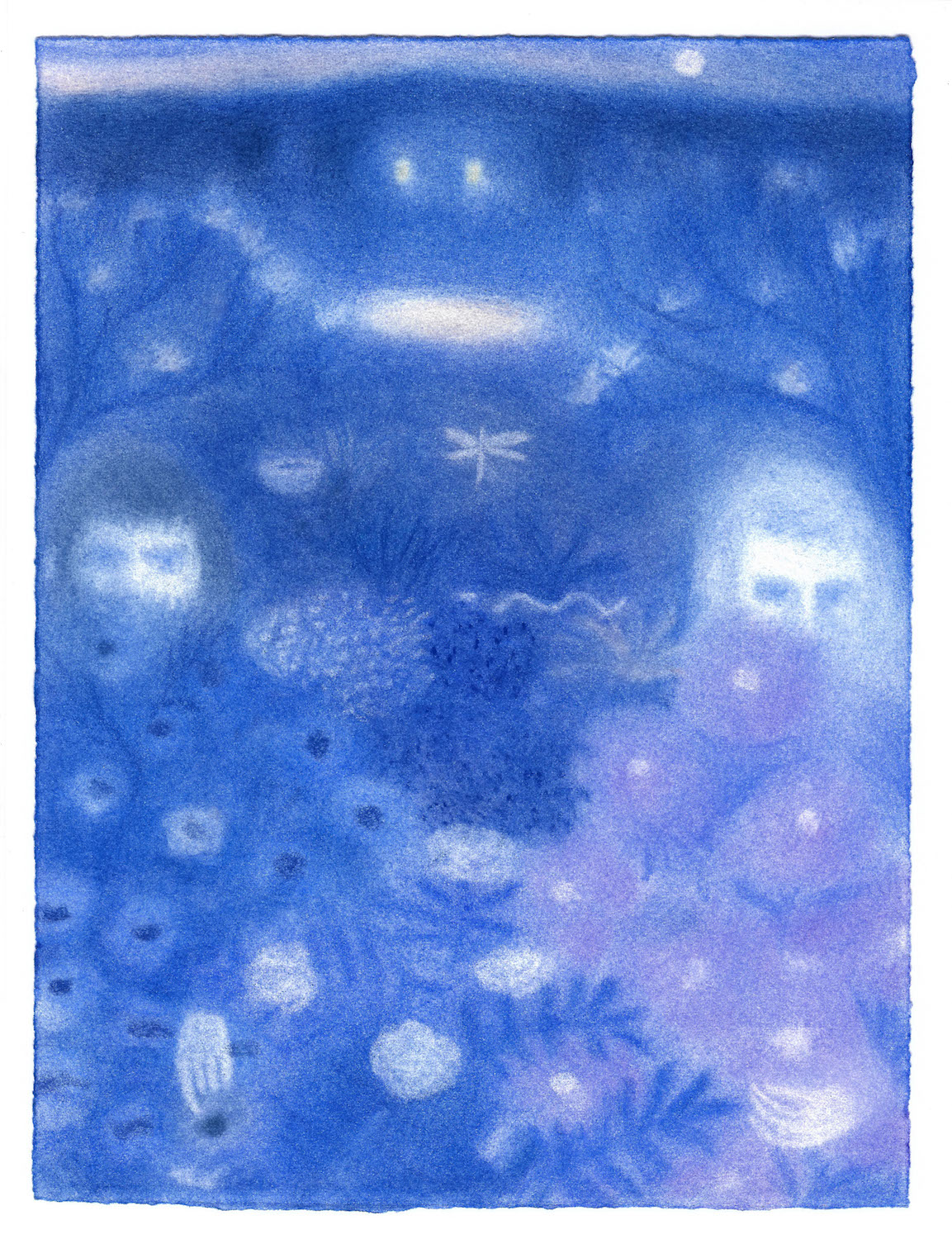 For her first UK solo presentation, New Contemporaries 2019 artist Mary Herbert presents a series of 12 pastel drawings and small studies on paper that act as windows into a dream- like realm – tapping into the power of such a space to support alternative models of thinking and perception.
The intimate body of work has been created over the last year, in response to the perceived rupture in our sense of reality caused by Covid-19 and the months of confinement that followed, leading Herbert to begin mining her inner world, specifically dreams, day visions and memories, more deeply as a source of inspiration.
Strange ceremonies, spectral figures, luminescent vessels, dissolving bodies, snakes, fires, pools, moons, lakes and mountains swirl amid a haze of fragile colours. The charged atmosphere has an uncanny yet strangely familiar quality, as if each scene might somehow be anchored in another kind of deep, distant memory. Perhaps one related to Jungian ideas of a collective unconscious and shared ancestral or trans-generational parts of the psyche.
As in dreams, meaning feels implicit yet eludes direct comprehension; revealing itself only to more intuitive kinds of interpretation. Understanding becomes something that cannot be firmly grasped or vanquished, but which unfolds over time and remains forever unfixed, fluid and amorphous, resting on a shifting network of loose associations and resonances.
'I think the state of dreaming goes against a lot of how we are conditioned to see things – it is a non-linear activity, linking to feminine, cyclical, spiral conceptions of time rather than a completely forward and upward progression,' the artist states. In a time when many of the prevailing systems and ideas that underpin society are entering a period of upheaval, Herbert is one of a number of artists reaching to the mythic, the ancient and the otherworldly in search of new forms of knowledge, and for spaces in which individual and collective fears can be addressed.
To See Through It includes 12 pastel drawings, which will be presented alongside a series of small studies in a central vitrine. These offer an insight into the artist's intuitive and organic methods of working, her sketchbook often acting akin to a dream diary of sorts – a repository of small fragments gathered from the cusp of the subconscious realm.
Text by Sara Jaspan
Artist Bio
Mary Herbert is a London-based artist. She gained her BA in Fine Art at Goldsmiths College in 2010, where she developed a fascination with the materiality of the photographic image and its unreliability as a container of memory. She later completed her Postgraduate studies at the Royal Drawing School in 2018, where she re-connected with the physical and unconscious aspects of image making through drawing. Selected recent exhibitions: The Lonely Ones, Curated by Katelyn Eichwald, Fortnight Institute, New York (online) 2021; Works on Paper II, Blue Shop Cottage, London 2020; Unmasked, Daniel Raphael Gallery, London (online); Dance First Think Later, General Practice, Lincoln 2020; Somewhere Else for a Little While, Eve Leibe Gallery, London (online) 2020; Bloomberg New Contemporaries, Leeds Art Gallery & South London Gallery, 2019