RELATION
Conor Murgatroyd
11th August – 15th August, 2021
15th August – 15th September (Viewing room), 2021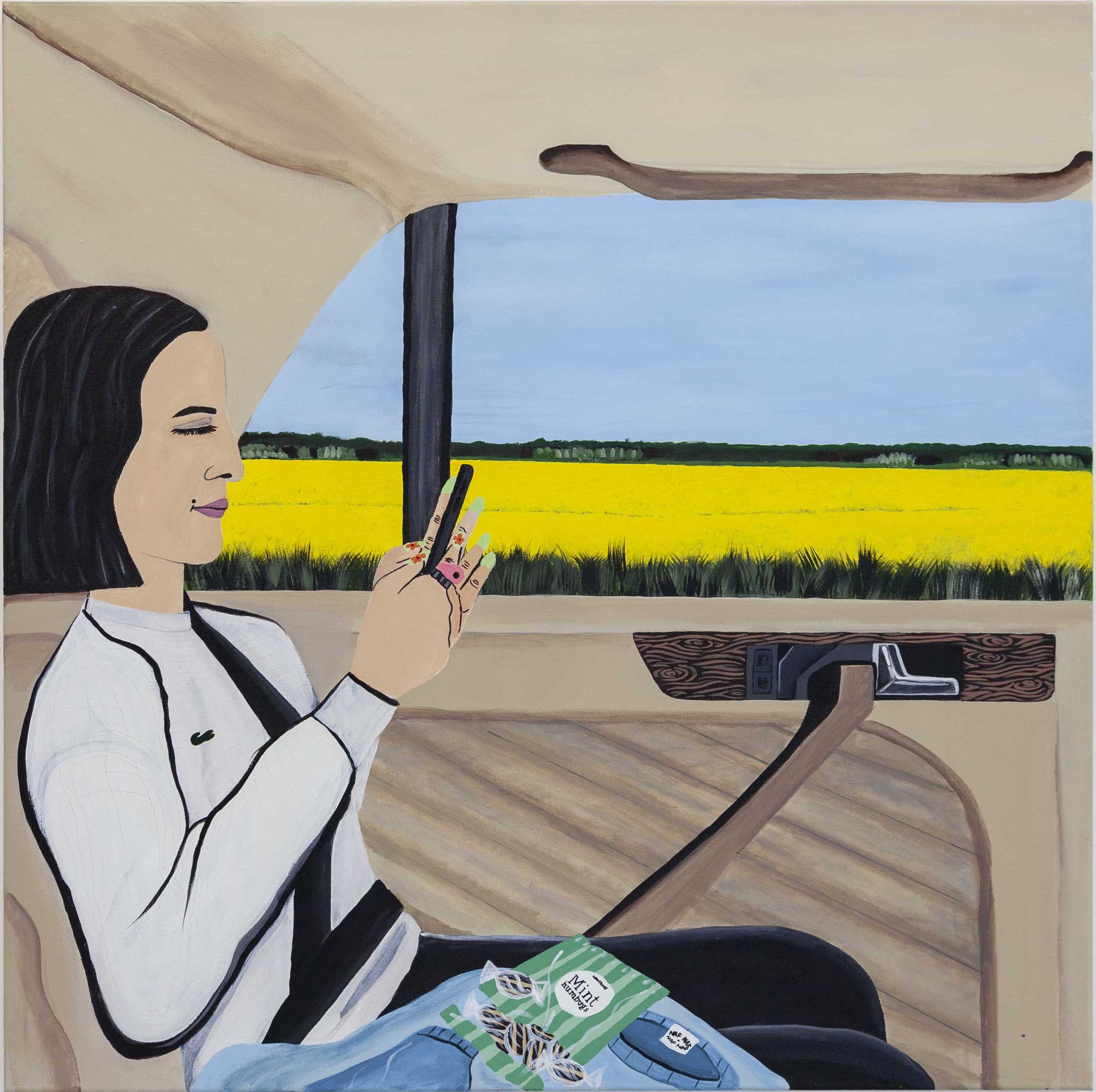 Lychee One is delighted to debut Relation, a body of work by British painter Conor Murgatroyd. Relation explores the artist's documentation of the lineage in emotional human relationships through the depiction of physical and visceral senses, under the guise of still lifes, landscapes, and traditional portraiture.
Murgatroyd is known for his contemporary interpretation of classic themes and structures in his paintings. In his boldly coloured pieces, he combines art historical references with images of objects, interiors, landscapes and people that comprise the fabric of his everyday life. Using pure colour to continually experiment with the three-dimensional world around him, he confounds expectations of scale and vantage point, causing the paintings to become vessels to emotional abstraction. This abstraction is exemplified within the works that display meta-frames, the painted frame within the physical frame of the canvas, reflecting back on Murgatroyd's role as a painter and the subjects he depicts. This creates a continuous conversation between the artist, the viewer, and the various paintings within the painting, allowing the picture to reflect back into itself. The painted frame acts to contain the image and the physical canvas frame acts to contain the painting. This duality creates an uninterrupted conversation between the image and the painting. The work takes on a new function so as to highlight the cultural link to Bosnia, where his muse grew up, and the symbols of his own childhood growing up in England, emphasising how they have become eternally intertwined.
Images of the artist's muse, close relatives, and domestic surroundings recur in his paintings, revealing the importance of familial dynamics in shaping time, space, culture, and identity. Continuing his investigation of a very intimate environment, Murgatroyd fuses artistic influences of Henri Matisse, David Hockney, Edward Hopper, Henri Fantin-Latour, and Pierre Bonnard. The artist samples subjects from his own life, filling compressed picture planes with figures, plants, and objects that Murgatroyd reimagines suspended in time.
This body of work moves through generations and looks at the cultural ties between human beings, through our relationships bound by, love, hope, joy, and fear, thereby creating an overarching feeling of togetherness.
Text by Jessica Barker

Conor Murgatroyd Originally from Bradford, Murgatroyd Studied Fine art at Chelsea College of Arts in London and received Knights of the Table award in 2017. His practice is engaging and beguiling at the same time. He has an obsession with history which has a great influence on his work; understanding the past allows him to make sense of the tangled web of influences, events and emotions that make up the existential human experience. His paintings act as a stage which brings together the myriad of characters and objects he has come into contact with; both imaged and lived. His work comprises of a wide range of topics, from his personal still life pieces to landscape paintings, which commonly feature captured images of the past. Structured compositions using this ethos are the framework of the works he creates.
Recent solo exhibition includes: Sage Flowers (Upcoming), Peckham, 2021;RELATION, Lychee One, London, 2021; WINDOWS, Online Solo Exhibition,2021;Interiors, Solo Exhibition, Haggerston; 2019. Recent group exhibition: History's Shadow Marks The Beginning, Grove Collective, London, 2021; Cave Canem, Online Group Exhibition, Eve Leibe Gallery, 2021; Art in Context, Group Exhibition, China, 2020; FREE WALL SPACE, Group Exhibition, 2020; All Mouth Gallery, Group Exhibition, 2020; FBA Futures, Group Exhibition, Mall Galleries, 2017; Chelsea College of Art, Degree Show, Group Exhibition, 2016; High Trees, Group Exhibition, Battersea, 2014.