Paper | Publication | Performance
15 April – 20 May, Wed – Sun 12 – 6 PM
PV: 14 April 6 – 9 PM
Exhibition of Paper works and Publications 15 April – 12 May
Performance week with invited curators 13 – 20 May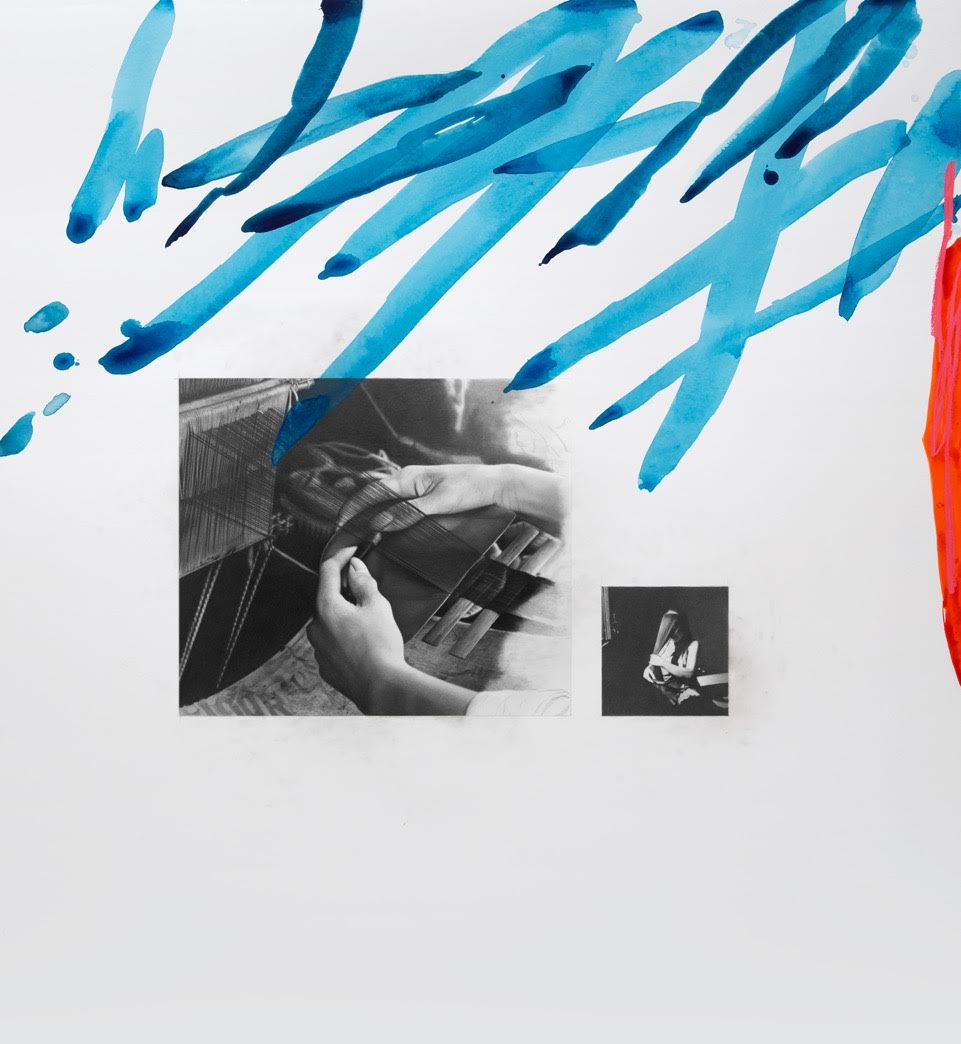 Aishan Yu, Others 21, Pencil, ink, acylic and crayon on card, 100 x 90cm, 2014
Paper, Publication, Performance
What it is it that moves the fastest or for that matter the slowest? Is it marks on paper, words on paper, images or gestures within space? What happens when they velocities start to touch into the other? Would it create a knot or spaces of clarity?
There will be little control or design about the process of musing over such questions but rather a thought of the difference in the space in which they are occasioned. Anyway we started to think about the future or even a future in which we are part blinded and could not see everything in clear light. A book needs a desk, shelf or table, a drawing a wall or a support and a performance requires open space and the drama modulated light might bring. But how to modulate slow or fast time? Surely space cannot be assumed to be the empty container of all of this? What will pass through, over and in-between? The exhibition will be the simple organisation of this experience. It cannot be more than this: something returning to itself by passing through, over, in-between and beyond. Yes in a way it has a lot to do with such things: the time we live, the unexpected time we might also come to live and yes making a space like a brief interval for the rehearsal of such an occurrence. Better that one yields, give into experience, abandon figures, reject models and let marks, words, images and gestures wash over the other of what they dreamed to be.
The Only Instructions:
1) Mix space and forces.
2) Form and de-form
3) Say little
4) Speak a lot
5) Project and empty
This show aims to assemble and exhibit an archive of artist's books either in unique format or in multiples alongside an exhibition of works on paper. The last week of this one-month exhibition will be devoted entirely to performances. Each of these days will have an invited curator or curators who will be free to format either an entire day or evening schedule. The persons invited will offer a broad variety of experiences within the gallery throughout this week and will push established ideas of performance
Artists exhibiting works on paper:
Aishan Yu, Freya Douglas-Morris, Julian Simmons, Keiji Ishida, Lu Pingyuan, Marlene Steyn, Vivien Zhang, Isobel Wohl, Beatrice Lozza, Alida Sayer, Kyung Hwa Shon and David Cyrus Smith
Artists exhibiting publications:
Tom Hatton, Silje Lovise Gjertsen, Diego Valente, Martina Gonzalez Guerreiro, Susan Finlay, Josefina Nelimarkka, Katrine Roberts, Joshua Leon, Eliska Stejskalova, Sam Williams, Keiji Ishida, Fernanda Cortes, Francesca Tamse, Julian Simmons, Meg Ferguson, Katie Spragg, Margherita Potenza, Nicholas Johnson, Martin Sekera, The Plantation Journal, Bea Bonafini, Colin Lindsay, Isobel Wohl, Ania Mokrzycka, Giovanna Petrocchi, Sun Shi, Alice Serraino, Sang Mi Rha, Cara George
Reading event 12 May 6 – 9
An evening event with artists performing with text and sound
This event coincides with the current exhibition;
Carol Mavor / Silje Lovise Gjertsen / Katie Spragg / Joshua Leon / David Spence / Iris Colomb / Clair Le C
Artists for performance week (14 – 19 May):
Chantal Faust and Esther Teichmann, Isobel Wohl and Alida Sayer,
Emma Bäcklund and Beatrice Lozza, Jonathan Miles, Helen Michael, 
Natalie Turner, Susan Finlay and Lee Trimming, Nigel Rolfe, Juan Cruz
14 May: Isobel Wohl and Alida Sayer
To Bind, Tear  4 – 8 PM'To Bind, Tear' will explore processes of formation and destruction in the relationship between book and lived experience, or starting place. "Book" is considered loosely—as an ordered collection of experiences in objects and papers, which may be tied together, which can be taken apart, which bear the impression of a body.
15 May: Emma Bäcklund and Beatrice Lozza
Thread (twostanzasunospazio)  12 – 8 PM
The pulse, the invisible activity unconscious
but not unaware of its own nature as a cloud…
the echo of oneself
Installation work by Beatrice Lozza
curated by Emma Bäcklund
16 May: Jonathan Miles, Helen Michael, Natalie Turner, Susan Finlay and Lee Trimming
Elsewhere  6 – 9 PM
17 May: Esther Teichmann and Chantal Faust
Push It  3 – 9 PM
Esther Teichmann:
A Cave and a Seaweed Octopus
Esther will be happily colouring in and painting a large-scale backdrop of a cavernous opening, and showing new works including a seaweed octopus ravishing an ecstatic, dreaming woman.
Chantal Faust / dj Pause:
Heads, Haiku and Jellyfish
Chantal will be writing haikus and painting heads. As dj Pause, she will play some tunes with gaps. 
18 May: Nigel Rolfe
Performance by Nigel Rolfe together with other performance artists.  6 – 9 PM
19 May: Juan Cruz
Performance by Juan Cruz together with other performance artists.  6 – 9 PM