Moonwort Gorge Replica
Tom Howse
31st March – 6th May 2021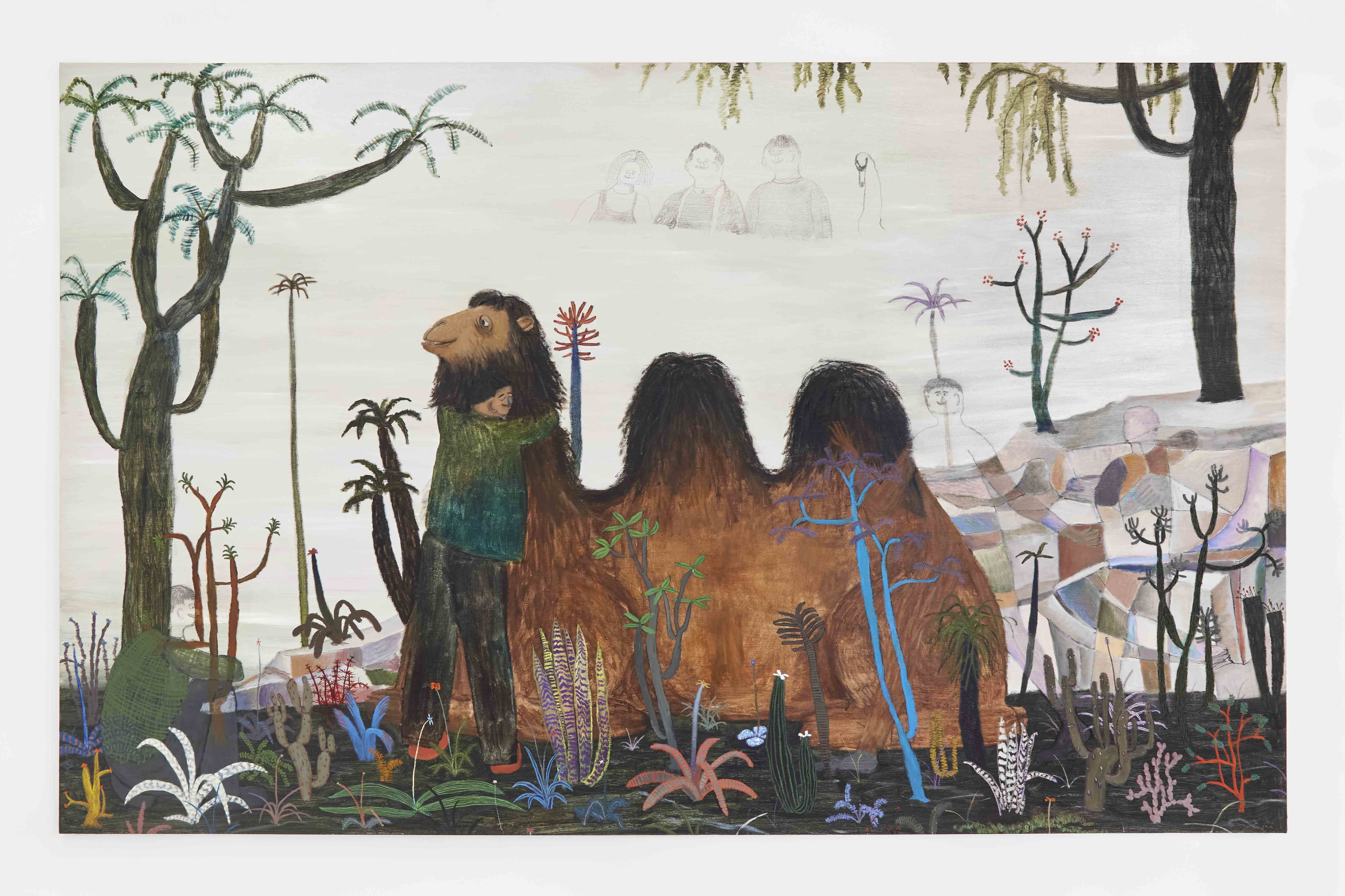 Lychee One is pleased to present Moonwort Gorge Replica, an exhibition by British painter Tom Howse, featuring a new body of paintings he created during the lockdown.
When looking at Howse's work the scenes in his paintings appear familiar yet unknown, and beneath the logic and normality of them exists a bizarre fantasy to be discovered. The landscapes and interiors of these paintings are often richly decorated with real and imagined species of plants, sculptural succulents and cacti, vivid technicolour flowers and prehistoric forms of paleobotanical ferns and cycads. An unsuccinct and anachronistic combination of real and impossible organisms. This sense of timelessness within a primordial landscape often creates the backdrop for figures and animals to exist along with floating ghostlike characters coming in and out of a sort of science fictional parallel dimension.
There is a distinctive language to the forms in his paintings, they possess an immediacy and intuitive quality in their drawing. But also, the fluency of these forms creates a vital precision to this language which communicates a sense of silliness and absurdity but without straying into an affected naïvety. Howse is heavily influenced by many craftforms and folk traditions like pottery and quilt making, various traces of this can been seen in the paintings. Often in many craft traditions their designs evolved through necessity of function, which meant their aesthetics developed as a byproduct and thus possess a beautiful sincerity. Some of these craft's origins stretch back to the dawn of humankind. Cave art and pottery are some of the earliest artefacts of self expression and the earliest evidence of a creature's contemplation of their existence in the universe. The exploration of this simple humanistic act is a common theme in his work.
Howse's figures seem to often be exhibiting love or compassion to one another, holding hands or exchanging sympathetic glances. Like the work of artists such as Stanley Spencer and Beryl cook, their paintings convey a joy in humanity, aswell as some aspects of our shortfalls and complexities, but they completely lack cynicism. In Howse's work there is this same optimism and enthusiasm in people despite our fallibility as a species.
The inclusion of animals and particularly some recurrent ancient hominid figures convey a vision of life from a broader perspective, a perspective looking back millions of years into our evolutionary journey and forwards to where the journey may continue.
From our prehistoric origins, the complete improbability for life to have emerged on our planet. Through millions of years of evolution, from the biochemical chaos in the primordial earth and the earliest creation of 'life'. We as humans along with every other form of life on our planet today are all descendants of a combined journey of every living organism to have ever existed. From humans and apes, to trees and plants, stromatolites and cyanobacteria, we are all part of a seemingly unique exponent of life which binds us together on our little community in the universe.
Artist Bio
Tom Howse was born in Chester 1988, currently lives and works in London. In 2018 he was one of five artists to receive the John Moore's Painting Prize and was shortlisted for the Caitlin Prize (2012) and the Prunella Clough Painting Award (2011).
Selected past solo exhibitions: Precambrian Swamp Jazz, 2019, Galleri Opdahl, Norway; Post-Celestial Compost, 2017, Rod Barton Gallery, London; Secondhand Toad Poems, 2017, Tanja Pol Galerie, Munich; Gunnera Bog, 2015, Tanja Pol Galerie, Munich; Selected group exhibitions: I Must Be Seeing Things, 2019, Ratskeller Galerie, Berlin; Kaleidoscope, 2019, Saatchi Gallery, London; Condo London, 2019, Koppe Astner, London; John Moore's Painting Prize, 2018, Walker Art Gallery, Liverpool