Deeper Bite
Teresita Dennis | Vivien Zhang
26 May – 20 June, 2015
Private view 26 May 6-8:30PM
Lychee One is pleased to present a duo exhibition of new works by Teresita Dennis and Vivien Zhang.
Painting and abstraction trace over geographic voids, over histories and locations, into an unknown world. Two artists, together in a space. Maybe one of the artists had been thinking about war and pain, whilst the other had feelings about what had passed through.
The sky is our only continent because it opens out the unknown. Abstract painting is looking at the sky twice: firstly, for the confirmation of it as image, then, by a second look that confirms the beyond of all of this.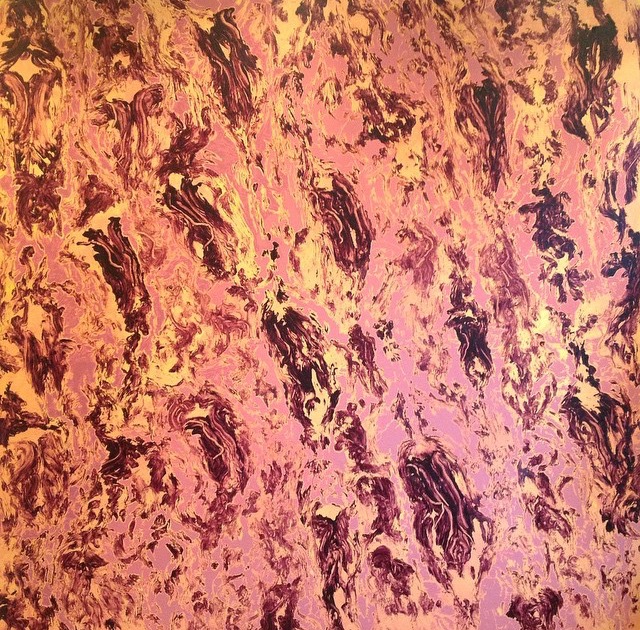 Teresita Dennis, Gesture: drop, scatter, oil on canvas, 160x150cm, 2015
If we connect lingering with palpitation then I have yet another word which is: Abandonment. Abstraction places itself on the edge of abandonment, in order to invent itself as new.
Ways of lingering,
Palpitations of becoming,
The continent of the unknown,
Spaces of difference,
Circulations of sense,
The rub of bodies and suspensions
come to mind.

Vivien Zhang, Wind Collector: Imposter Syndrom, mixed media on canvas, 100 x 180 cm each, 2015
Image courtesy of House of Egorn, Berlin
Teresita Dennis, Selected exhibitions include Making Sense, Number 67 Gallery, London, 2014; Autumn Show, Broadbent Gallery, 2012; Paint Lab, Hockney Gallery, London, 2008; Here I Am, Broadbent Gallery, 2007; Obsession, Sartorial Gallery, London, 2006; Requiem, St. Anselm's Church, London, 2006; Seeing the Dark, Hockney Gallery, London, 2005; Tender, Hockney Gallery, London, 2005; Drawing the Line, Vertigo Gallery, London, 2003; Tear(s), Claudia Grosse Selbeck Galerie, Düsseldorf, 2001.
Vivien Zhang, Selected exhibitions include East London Painting Prize, The Rum Factory, London, 2015; Mapping in Memory, House of Egorn, Berlin, 2015; Booth Presentation, Art Central, Hong Kong, 2014; A New Circle, Forbidden City Gallery, Shanghai, 2014; Saatchi New Sensations, Victoria House, London, 2014; Laurence Owen | Vivien Zhang, Rook & Raven, London, 2014; Saatchi Showdown in Glorious Colour, Griffin Gallery, London, 2014; PNTG NOV, Henry Moore Gallery, London, 2013; The Boat of 2012, Today Art Museum, Beijing, 2012.