Constellation
Diane Chappalley
21st April – 4th June 2023
PV 20th April 18:00 – 21:00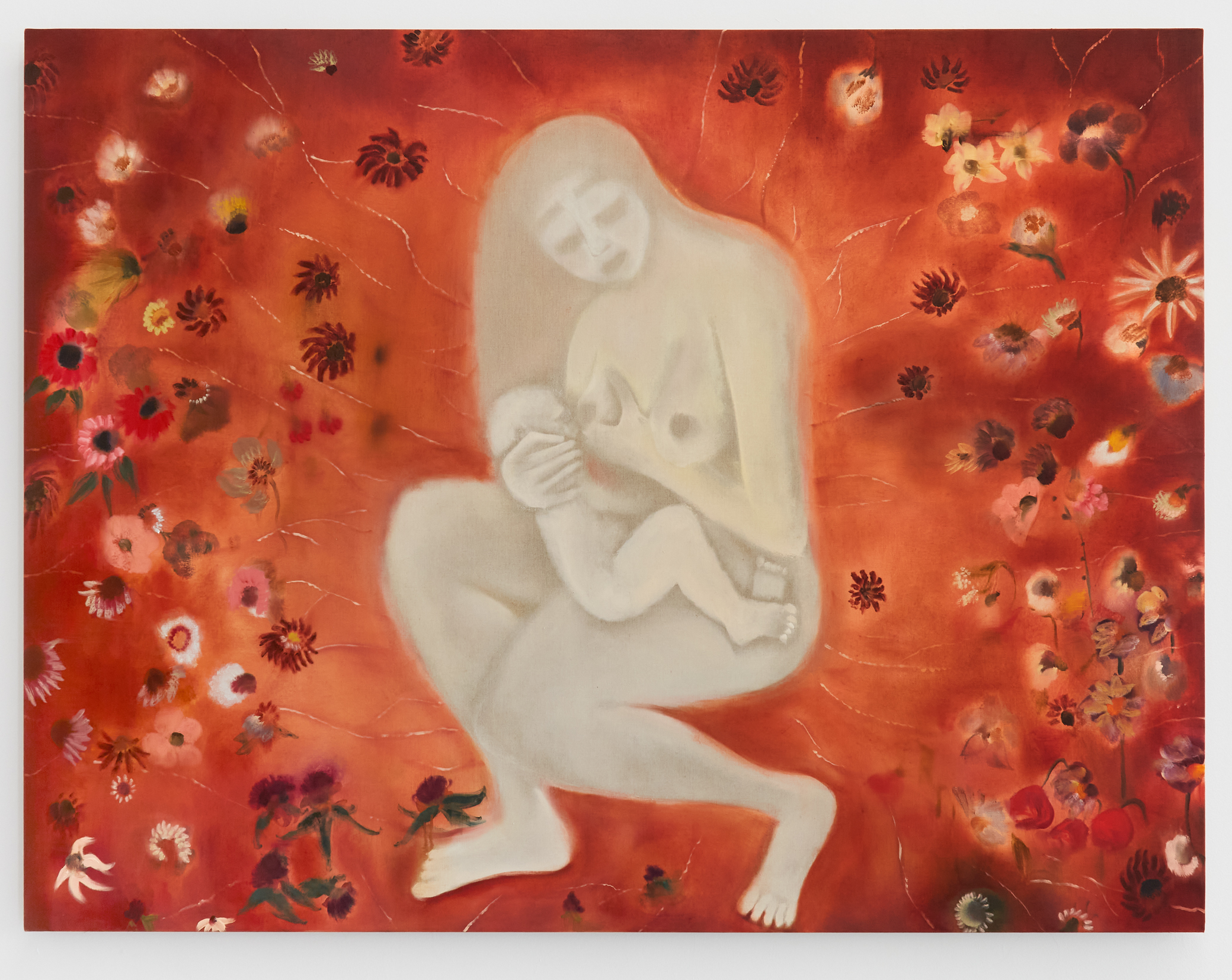 Diane Chappalley, Constellation, 2022, 130 x 170cm, oil on linen
For a baby in utero, the maternal body represents the whole world. A visceral encompassing, a body within a body; a skin within a skin. The womb becomes cosmos. In the rhythmic double beatings of two hearts, galaxies intertwine. Worlds bloom among blood vessels and new senses emerge from the placental web.
In Constellation, her solo show at Lychee One, Diane Chappalley presents a new body of work exploring timeless themes of love and death through a rich palette of fleshly and earthly tones. Across her paintings and ceramics, she uses a visual language of intimacy, interiority, and maternity to delve into the authenticity of emotions such as grief, anxiety, and passion.
Drawing on Chappalley's own recent experiences of pregnancy, the works suggest a state of matrescence, the developmental process of becoming a mother during the transitional period of pregnancy, birth, and the early weeks of a baby's life. Paintings such as Constellation hint at the notion of growing into a new identity, while also meditating on the contradictory experiences of pregnancy both as a deeply personal and isolating event, and also as an inextricably shared event of learning to become two people within one body.
The exhibition title alludes to the alignment of the stars required for conception: a common event, but one for which many separate factors have to line up perfectly. Across the show, Chappalley's works similarly emerge as an astral constellation; a series of interconnected ideas loosely sketching out a broader narrative which is open to the interpretation of the viewer.
Throughout her oeuvre, Chappalley uses images of flowers; defined by their rootedness, these plants suggest the nurturing and grounding power of the earth. At the same time, however, this idea of being rootbound is defied by how many of the figures and flowers appear to float untethered. In the large-scale painting Death and the Lovers, for example, are the embracing pair floating through space, or are they pictured from above lying in the embrace of the earth?
Here, both death and the creation of life appear to occupy a liminal space between dreamlike mysticism and mundane earthiness. Similarly, in the diptych The Soil Breathing, a carpet of autumnal flowers appears to rise from the ground into the air, with a single red bloom marking a transition across the divided picture plane. Living things both emerge from and disappear back into the landscape, suggestinga cycle of life and death that draws vivid parallels between tomb and womb as sites of creativity.
Works such as Rebirth and Encompass allude to burial practices and how we associate flowers with the beginnings and ends of lives. These paintings further suggest a return to the womb and a reawakening of the inner childhood through the human desire for enclosure and protection, as well as shared physical expressions of psychological states; curling into the foetal position, for example, as a response to grief and loss.
In this exhibition, flowers emerge from the paintings in three-dimensional ceramic forms, punctuating the gallery space like precious relics or votive objects. These blooms play the role of witnesses or ambiguous spiritual presences, perhaps protecting and nurturing or perhaps simply observing the human characters. Often appearing in transitional states of blooming or fading, these plants forge a link between people and earth, standing as metaphors for life, vulnerability, and liminality.
Throughout Constellation, Chappalley presents landscapes that are simultaneously earthly, fleshly, and psychological, suggesting an ecological slippage or porosity between internal and external worlds, drawing on the transitional experiences of pregnancy and matrescence. Among the autumnal colours that suggest both soil and skin tones, the human figures are painted with grey or neutral colours, as if they are carved from stone; statues lost in time. Chappalley seems to suggest that the emotions around the events we mark with flowers – conception and pregnancy, birth and death, love and loss – are both intensely personal and inherently shared and universal.
Text by Anna Souter
ARTIST BIOGRAPHY
Diane Chappalley Born 1991, Switzerland, lives and works in London
EDUCATION
2015 – 2017 MA with distinction, Slade School of Fine Art, University College London, UK
2012 – 2015  BA First Class Honours, City and Guilds of London Art School, UK
2011 – 2012  Bern University of the Arts, Bern, Switzerland Foundation Visual Art
SOLO AND TWO PERSON EXHIBITIONS
2023 Constellation, Lychee One Gallery, London, UK
2022 The Flowers are Witnesses, Taymour Grahne Projects, London, UK
2021 The Auguries, with Anna Reading, Informality Gallery, Oxfordshire, UK
 Death, in Bloom!, with James Jessiman, Artwork project Space, London, UK
2020 Behind Closed Doors, Informality Gallery, Oxfordshire, UK
2019 Between you and me, Le Salon Vert, Geneva, CH
 Diane Chappalley & Georgia Sowerby, two person show, SET Space, London, UK
2018 Mute Muet, HSBC Art Space, London, UK
The present is already gone, with Antonia Showering, Chalton Gallery, London, UK
Alice Bailly Award, Espace CHUV, Lausanne, CH
2017 POND, with Anna Reading, Academy of Visual Art, Kaitak, HKBU, HK
RESIDENCIES
2021 nthspace Torino, Turin, IT
2018 Radical Residency, Unit 1 Gallery / Workshop, London, UK
2017 Academy of Visual Arts, Hong Kong Baptist University, HK
PUBLICATIONS
2022 Art Maze Mag, Issue 25, selected by gallerist and curator Danny Lamb 2021 The Artists Contemporary podcast
2020 Studio visit by DATEAGLE ART. Word and photography by Anna Souter
AWARDS
2018 Alice Bailly Award, CH
2017 Dean's List UCL, Slade School of Fine Art, UK
Olive Prize, Slade School of Fine Art, UK
2016 Herbert Seaborn Scholarship, UK
2015 The Chadwyck-Healey Prize for Painting, City&Guilds of London Art School, UK
Travel Prize, David Ballardie Award, UK