Bone Memory
Aishan Yu Bea Bonafini Freya Douglas-Morris
Marlene Steyn Lian Zhang Vivien Zhang Zhu Tian
Live performance by Zhu Tian starting at 6:30pm 29th November
30th November 2018 – 4th January 2019
PV: Friday 29th November 6 – 9pm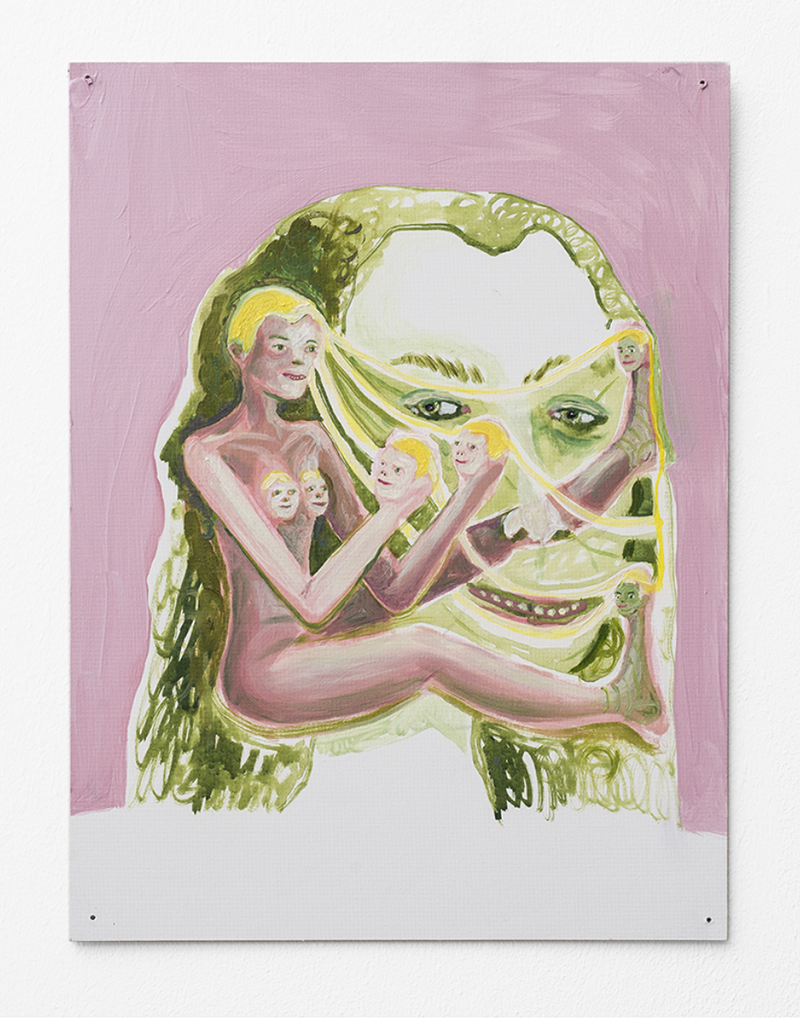 She said that there was two main forms of memory; one secured in the softer tissues of the body, the other stored in the hard tissue of the bone structure. Soft tissue memory was inclined to be delicate and even sporadic in its nature, whereas there was something more enduring and thus certain about hard tissue memory. This insight was not based upon science but was something closer to the nature of reverie. She added that memory went in two directions and that this was the basis of memory having a relationship to the future. Memory of the future is obscure because it is conflated with the imagination but this is a difference we are required to understand as painters, was the final claim.
"Lets call the exhibition 'Bone Memory' then. I never heard of an exhibition with such a name before. We might talk of feeling something in our bones as if there is a location of deep sensation in the body, a visceral unconscious if you like, but the idea of bone memory has a feel to it."
"Recently I have been dreaming differently; all kinds of images are in circulation inside of me. It is supposed that a painter leaves a trace of inner life but I always think that I paint on the outside of myself, or put in another way, my elsewhere. It is like a process of unlocking something unknown, as opposed to a clichéd figuration pertaining to inner life."
The conversation went back and forth. It was not so much a case of assembling paintings within a space but rather grasping hold of all the leakages within the empty space in-between. A show has to touch a nerve but that might be too easy to say but complex to arrive at.
"There needs to be a pulsation running through the space. Something that you cannot see but is there, closer to a force perhaps."
One of the painters had been reading something about the idea of aesthetic community whose primary focus is in the production of the new. Everything might be gathered within a free play of mediums, energetics, therapeutics, encounters, passions in order to release invention, mobility and transformation of means into a mode of free play. It was such things that stood alongside the act of painting and created a sense that it was not merely a combination of labour and skill.
One of the painters had not uttered a word. Painting she said can never be the production of a definite thing but rather is the production or relationship to the rule that underlies things. Nothing is quite as it appears and that art is a trace of this unsettling process. But then she added that she need to be with this,as opposed to thinking it all the way through. Painting is evasive, she thought to herself, but declined to say. She then wondered what else had not be said.
她说人世间有两种记忆模式:一种渗入于身体的软组织,一种储藏在骨骼结构的硬组织里。软组织记忆微妙精细,偶有涌动却难以察觉,而硬组织记忆却是经久不衰,让人极难忘怀。这种观点并没有半点科学依据,只是狂想之后的必然产品。她甚至补充说:"正因为记忆如此两极分流,与未来的联结也就有了无限的可能。由于混杂了想象,未来的记忆随之晦涩朦胧,对于不同的画家而言感受也将不尽相同"。
"因此就把这次展览命名为'骨骼记忆'吧,我还没听说有过这样名称的展览。我们可以聊聊在骨骼里感知到了什么,就像身体内部有一个地方蕴藏着深刻的感受,那是一种纯粹自然的潜意识心理状态,虽然晦暗不明,但可以通过骨骼记忆的形式去感知这种状态的存在。"
"最近我一直做着离奇的梦——各种影像在我的体内穿梭,有人说这是画家内在生命的痕迹。但我总觉得绘画的动力源于自身之外,换而言之,那是一种非我的力量。就像是未知的东西被解锁了,这和我们习惯认为的内在生命那一套完全不一样。"
谈话在回忆与之间与往复循环。这并不是一次把画作装载入空间就能完成的展览,却更像是在一个个真空区域之间捉住所有泄漏物的过程。
" 这个空间需要有奔流的脉动,虽然你看不到,但这股力量就在当下,这里,也许更像是一种原力。"
其中一位画家阅读了美术界的一些观点,这些观点认为创作的首要重点应该是构建新事物,把媒介应用、能量学、治疗学、偶然因素、激情都融于一炉,让创造力、移动性以及工具的转换都得到充分的释放,从而进入自由游戏的状态。这样的一种状态贯穿于行为绘画之中,使得创作不再仅仅是劳力和技能的结合。
而另一位画家对此并不置一词。她认为绘画绝不可能是制造一件实物,而应该是反应事物背后规律的作品,或者是与之相符的关系表现。这世界上找不到完全和表象一致的东西,而艺术应该是探索这种混沌状态的过程。但紧接着这位画家又补充说她需要更多的尝试,而不仅仅只是发出疑问。绘画是一种掩饰,她自思自忖,却又拒绝就此表态,然后她又开始疑惑到底还不该说些什么呢?