Aspiration 2 b reborn in the Western Paradise
Clay Arlington
30 October – 18 November
PV: 30 October 6-8:30PM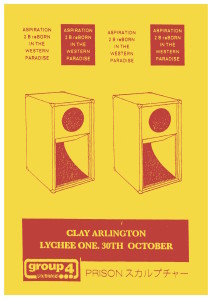 The director calls quiet on the set, lights dim and the world fades into nothingness. Thick with the noise of silence, her ears begin to ring out loud. Stood centre stage the noise penetrates deep, some unholy resonance with a long-range frequency of schizo static.
Pierced with fragments of glass in a sea of white noise, she forgets her self, forgets her character, style and body. She trips backwards, stumbles forward, steadies herself and empties out her lungs into the abyss. Dampened and smothered like breathing in a test chamber, she down tunes her vocal chords out of range and spirals trancelike into the forever, endless expanse of chiming mantras, vital like a primordial chant that resonates loud from deep within the skull.
Isolated, insulated and sacred like a ritual with no given format. No case notes, script or stage directions, just a set, a recording studio prepped and ready, silence called, deafening crucial silence called. Readied for the first act.
Fireproof acting incarnate
Act 1 scene 1 – Aspirations to be reborn in a western paradise.