Always There
Minyoung Choi
4th November – 17th December 2022
PV: 4th November 5 – 8pm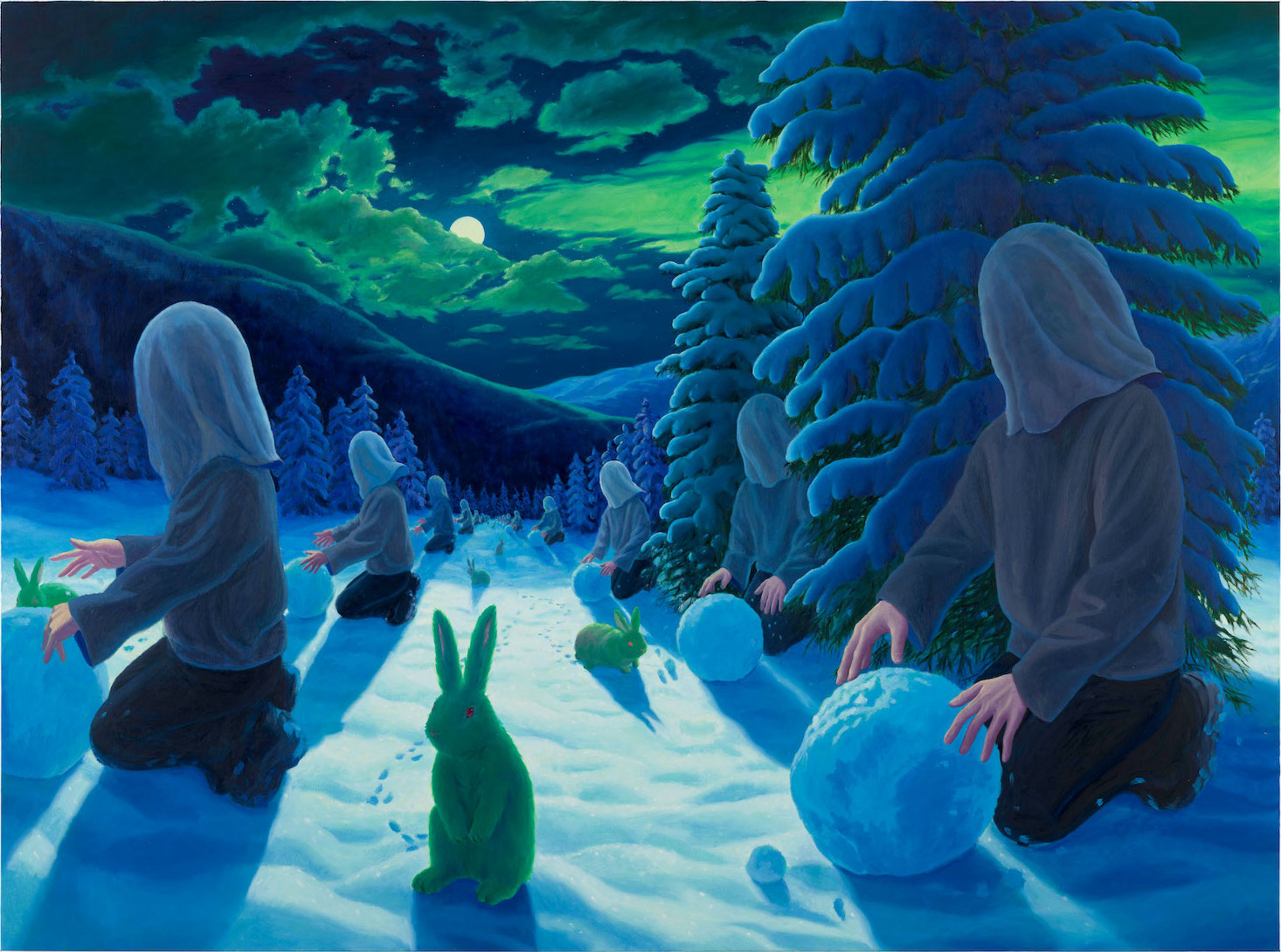 Minyoung Choi, Moon Ritual, 2022, oil on linen, 200 x 270cm
A lynx gazes enigmatically from a snow-covered forest. A fish sleeps under a translucent blanket. Glowing-eyed cats play with unexplained alien creatures as starlight streams through open curtains. In her new body of work Always There, Minyoung Choi explores different modes of human and nonhuman perception, imagining scenes that might take place just beyond the confines of our vision and investigating the relationship between the seen and unseen.
This exhibition sees the artist playing with scale in a new way, featuring some of her largest canvases to date. She explains that the process of painting clarifies itself when working with larger dimensions, allowing her greater freedom to explore texture, light, and composition. The biggest work in the exhibition, Moon Ritual, features a series of mysterious figures at moonrise, introducing a cast of rare human protagonists into Choi's oeuvre. Wearing identical, nondescript clothes and with fabric over their heads, they kneel at regular intervals forming huge snowballs, watched over by an eerily green rabbit with shining eyes. Here, the joyful and childish associations of snowball-making are transformed into a sinister and esoteric ritual. Something intrinsically playful is taken seriously, perhaps echoing Choi's own approach to painting.
Inspired by a winter trip to the snow-covered forests of Romania, Choi captures the mysteriousness of a winter forest at night, where snow disguises familiar shapes and the moonlight throws confusing shadows on the reflective ground. This is part of Choi's interest in the cycle of the seasons and the passing of time, part of a preoccupation with capturing transitory moments. There is an emphasis throughout the artist's work on atmosphere and environment; background becomes foreground and setting becomes subject.
Many of the works are set in half-remembered places, or places seen in dreams and recalled later as if in déjà vu. Choi's scenes evoke a balance between the fantastical and the everyday, hovering between the possible and the impossible. One large canvas, for example, is almost entirely filled by a blue sleeping cat with a slightly humanoid face, prompting viewers to question whether the work shows a magically huge animal, or an ordinary pet depicted on a huge scale. Choi works within a liminal space between the world of plausible tangibility and ethereal illusion, borrowing from a mixture of real and imagined references, and offering room for uncertainty and interpretation.
Several paintings, such as Living Room and Blue Cat, feature small star-shaped creatures, first encountered by Choi in a dream. With stubby limbs and soft skins, the babyish creatures appear both cute and sinister. It is as if they have jumped from Choi's dreams onto the canvas, mysteriously multiplying, shyly populating her paintings in the absence of human figures.
Motifs and places reoccur across the paintings. For example, blue-haired cats appear at various scales, while the luminous green rabbit that takes centre stage in Moon Ritual can be spotted elsewhere hanging limply from the jaws of a lynx, suggesting a surreal continuum between the painter's imaginative worlds. The lynx is a shy animal, rarely seen. This is emblematic of Choi's ongoing interest in the things that happen when human beings aren't looking. Many of her paintings imagine events and relationships that unfold when human watchers have turned away or covered their eyes; the happenings and beings that are always there, just beyond our consciousness. We are repeatedly given glimpses into the lives of self-aware, intelligent nonhuman creatures, as though a spotlight has swung briefly over scenes usually unfurling away from human vision.
Text by Anna Souter
Things Hidden Since the Beginning of the World
by Liviu Tanasoaica
ARTIST BIOGRAPHY
Minyoung Choi (b. Seoul, South Korea, 1989) is an artist who focuses primarily on oil painting. She graduated from the MFA Painting Course at the Slade School of Fine Art in 2017 and is currently living and working in London. She completed her BFA (2007 – 2010) and MFA (2011 – 2013) in Painting at Seoul National University in Seoul, South Korea before moving to London.
Choi's works, which straddle the boundary between surrealism and real life representations, often function in relation to one another as a series of meditations on a particular theme or concept. Objects, images and patterns of light frequently recur among her paintings, creating a sense of cohesion, as if these pictures all belonged to the same dusky, strangely lit dream. Light is of utmost importance to Minyoung's pictures, its various, radiating sources – moon, sunset, laptop screen, lamp – often providing the focal point of the composition.
Selected solo/duo show include: Always there, Lychee One, London, 2022; Things That Happen When We Are Not Looking, Lychee One, London, 2021;  In Conversation: Part II, Duo Show with Mircea Teleagă, curated by bo.lee Gallery, Copeland Gallery, London; MINYOUNG CHOI, Andelli Art Gallery, Wells, Somerset (2019); On Water Under Snow, Art in the Bar, Chapter Arts Centre, Cardiff, Wales (2017); Avanzamos / Volvemos, Olvera Contemporary Art Centre, Olvera, Spain (2017).
Recent group shows include: Pounding The Pavement, Galeria Pelaires, Palma de Mallorca (SP) , 2022;  The Tale of Tales, G Museum of Art, Nanjing (CN), 2022;  Curtain Call, Duo Show with Jinhee Kim, ThisWeekendRoom, Seoul (SK), 2022;  On Paper, Paper Gallery, Manchester (UK), 2022;  A Couple of: The Dual-mechanisim of the New Generation of Asian artists, Hive Art Center, Beijing, 2021; Antisocial Isolation, Saatchi Gallery, curated by Delphian Gallery, London (2020); Summer Exhibition 2020, Royal Academy of Arts, London (2020); Devil's in the Detail, Kristin Hjellegjerde Gallery, London (2020); Staycation, Lychee One Gallery, London (2020); Three 3.3, bo.lee Gallery, Online Exhibition, London (2020); Rooms, Subsidiary Projects, Online Exhibition, London (2020); Still Here, The Newington Gallery, London (2019); Prologue, Offshoot Gallery, London (2019); The RBA Rising Stars Exhibition 2019, The Royal Over-Seas League, London (2019); PAINT: The Seen, The Unseen and The Imagined, Contemporary European Painting, Messums Wiltshire, Wiltshire (2019); Dream of You, Love Unlimited, Glasgow, Scotland (2018); Young London Painters, Arthill Gallery, London (2018); Wells Art Contemporary Award 2018, The Bishop's Palace, Wells, Somerset (2018); A Field Guide to Getting Lost, TAF The Art Foundation, Athens, Greece (2018); The Horse, curated by Noel Mckenna, Darren Knight Gallery, Sydney, Australia (2018); The Beep 2018 Biennial International Painting Prize, Swansea College of Art, Swansea (2018); The Gilchrist-Fisher Award 2018, Rebecca Hossack Gallery, London (2018); Dentons Art Prize 2018, Dentons, London (2018);
Choi has been awarded numerous prizes among which the Next Generation Art Prize, part of the Wells Art Contemporary Award in 2018, the Henry Tonks Prize in 2017, the Slade Summer School Residency in 2017 and the Olvera Contemporary Arts Centre Residency in Olvera, Spain in 2017. She was a finalist of the RBA Rising Stars in 2019, the Gilchrist-Fisher Award in 2018 and the Chadwell Award in 2017. Choi's works have recently been featured in The Economist: Creatures of the shallows-Minyoung Choi's fish are symbols of confinement, 2021.